KBF-231RGSH
Feature
The 1st generation of Kusatsu bathroom air controller obtains its certification form Japan in 1986, and since it begins to manufacture and sale. With all these years of experience, this product comes to its 5th generation, the most recent model KBF-231RGSH (Wireless remote). It design for greater user experience from quality, functionality and creativity.

Human Detection

Auto Swing

Preset Timer

Overheat Protection

PTC Heating

Anti-Germ filter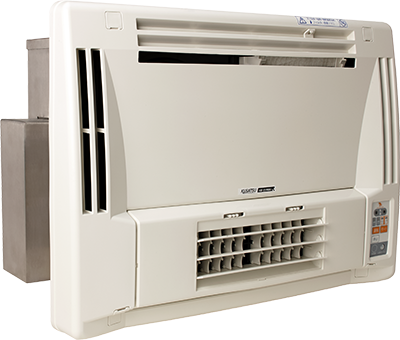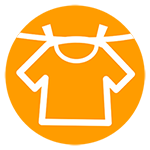 Wind dry /
Eco Dry /
Dry
For all four different seasons

Wind Dry
Cycle and venting motor operate at the same time, using the cycle air flow to let the clothes to vapor moisture on clothes. The venting motor move the humid air out of the bathroom, which is a slower but economic and useful in low humidity days or thin clothes

Eco Dry
This work the same with Wind Dry, but during the final hour, the smart drying mod will be activited. It will blow out warm wind and increases bathroom temperature, enhancing the drying effect of the ends of the clothes. This is also an slow but economic way to dry.

Dry
Cycle and vent motor operates at the same time. By using the cycle heat wind, it fasten the vapor of the waters on clothes, and meanwhile pushing out the humid air out of the bathroom, making it a better drying method. During the last hour, venting motor will stop operate for 10 min and resume for 5 min, and this 15 min cycle will repeat for 4 times. This will increase the temperature of bathroom and enhance the drying effect. By using the strong dry mode, it can keep bathroom dry and cool and reduces germs.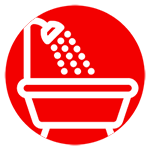 Pre-heat/
Heat
Enable before or during bath

Pre-heat
In winter times, turn on this function before going to bath can make your bathroom warm and comfort.

Heat
During bath, it keep the bathroom warm and will blow an considerable amount of wind for adjustment. This is to avoid the discomfort of being blow directly before finish shower, which can reduce the chance of heart problem, stroke or respiratory illness.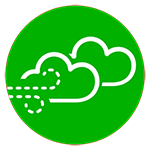 Cool
Enabling cool function, cycle motor will speed up the air venting and flow of the bathroom, meanwhile the venting motor will operate to bring away the humid air, making the bathroom fresh and cool.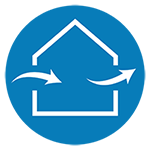 Vent
24HR Venting
Kusatsu have venting function (venting for 180 cube meter per hour), which can vent out humit air and bad smell. It comes with an 24 hour venting function, even for bathrooms without windows can also easily keeping it fresh and dry.
Key Features

Human Detection
According to your needs, pre-heat function and cool function both comes with human detection function. When you enter the bathroom, the funciton previously in using will resume automatically. When you leave the bathroom, it will stop operating.

Timer Preset
You may set the time to start and stop according to your needs.


Eco-friendly & Power Saving
Human detection function can start and stop according to actual usage, very convenient and power saving.
PTC heating with durable time for 10000 hours
Max power usage is 1350W, very power saving.
Kusatsu obtained ISO14001 environment management certificate, meeting international standards.


Overheat Protection
When all function involving the use of heater has stopped, wind cycling will continue for 30 seconds as to cool down the heater.
When it detects the temperature of the heater raises up to 60 degees, heating function will stop at once, and maintain the wind blowing until it drops back to below 55 degrees. This ensures the machine will not over heat. (The Eco-dry function also use this method at its final hour.)

Double Motor Design
Venting and cycling motor work together, greatly enhance cool and drying function.
It has a low noise design of having 30-45 dB. This motor is also used in most hong kong hotels.

Anti-germ filter
Obtained JIS certificate (JIS Z 2911) in 2003 in Japan.

Safe for Use
Lastest Japan PTC heating, which do not consume in door air and can be used in closed window environment.
In 1998 Kusatsu obtained the ISO9001 quality management certificate, making it products meeting international standards.

Unique removable cleaning
Besides from cleaning the filter periodically, Kusatsu is the only bathroom air controller in Hong Kong which fans are removable and the inner part of the machine are cleanable. This would avoid dust from accumulating inside the fan or causing the following problems inside the product.
1. accumulated dust will easily be blown back to the room
2. Bacteria will accumulate, causing problem with air quality
3. Affecting the performace, making it unable to operate in good condition and shorten its life span
4. Excessive amount of dust may cause overheat
Cleaning it once a year is recommanded. Our company prodives cleaning service, please contact us for more information.

IPX5 water proof
The remote obtained IPX5 water proof standard, suitable to be used in the bathroom environment.